November is a very busy month for me. Two birthdays, my brother and my son, and my brother and sister-in-law celebrate their 29th wedding anniversary. Plus we had a baby shower on Sunday for my first grand baby due in December.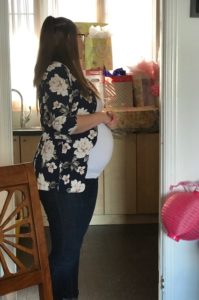 Next month will also be hectic as the new parent's are moving, baby will be born and we can't forget Christmas and NYE celebrations. Our Christmas will be kind of on hold as we wait for the birth.
So aside from all the hullabaloo going on around me, I'm still here writing and planning for 2020. Are you going to Coastal Magic Conference? I was invited so I'll be in Daytona in February. In March I'll be at Book Lovers Convention in Nashville. I'm really looking forward to meeting readers and having fun with everyone. Please let me know if you'll be there too.
Currently Working Girl is on Sale at .99 around the world! Here is the Amazon link, and it's free with Audible! For all other platforms and translations you can find them on my Bookshelf along with all my other books.

Excerpt
I settled into the soft leather armchair and quietly took in the posh reception area of Diamond Enterprises. It was all marble, honeyed-colored wood, thick carpets and soft lighting, with one wall housing hermetically sealed first-edition classics behind beveled glass. It gave the impression of an elegant sitting room. Under normal circumstances, I would be drawn to the shelves, eager to see which books rated being so carefully protected. 
Not today.
The whole place gave off an aura of old money and, in my opinion, also reeked of arrogance and entitlement. I didn't belong, but that wasn't going to stop me. I'd nurtured my revenge since I was fifteen, when my father died. Just five years earlier, he, only fifty years old, walked into our house, the contents of his office stuffed into a battered cardboard box, and the direction of my life changed. Now that a window of opportunity had finally opened, I'd leapt at it. The head of Diamond Enterprises needed an executive assistant.
In the weeks since I'd seen the job on an executive-jobs search site, I'd quit my position as corporate librarian for an international mining exploration company, and done my due diligence, researching and cramming as if this interview were the exam of a lifetime, in order to be absolutely ready for it. At the library, I'd done everything from ordering reference materials and tracking down obscure theses on mineral rights to supervising a small staff of archivists and researchers. To leave all that and become somebody else's secretary was a step down, a waste of my degrees and the scholarships that paid for them. But the opportunity to bring down a huge corporation didn't come along often … and I was prepared to do whatever it took. There was nothing they could trip me up on now. I'd learned all I could about the company ‒ at least, what was in the public domain. What wasn't public knowledge was what I needed to find out now, and the only way to do that was from the inside. 
From my seat, I had a clear view down the elaborate hall into the mysterious and very secretive inner sanctum of Diamond. The very sanctum in which my father, Charles Raymond, had once walked, moving with the exclusive executive management team, until he'd been let go, falsely accused of misusing company funds, and it had cost him ‒ us‒ everything. He'd been ousted unceremoniously, cut off at the knees, his pension taken away and with no golden parachute to see him through his senior years. It left him with a reputation that haunted him until he died, a bitter old man. (I'd been born when he was forty, rather late in his life, before his fall from grace.) 
I pressed my lips together, trying not to let my anger boil over. It wouldn't help; calm and level-headed thinking was the only way to succeed. I glanced at my watch, a delicate piece I loved with all my heart. Dad had given it to Mom on their wedding day, almost thirty years ago, back when they still lived in England. I gently touched the small, round face ringed with exquisitely tooled platinum and a bevy of sparkling diamonds. The second hand ticked and reminded me I was waiting, something I'd become very good at.
I'd be thrilled if you joined me for all upcoming news. So, stay in touch!