Hi everyone!!
I hope all my American friends had a wonderful Thanksgiving. I did love to see all your posts, and dinner table photos. The food looked scrumptious.
I'm having a contest! One lucky winner will get a $25 Amazon gift card. Do you follow me on Bookbub? If you're not you can click HERE  to enter the contest. Just a quick follow on Bookbub will enter you in the draw. If you already follow me just enter your info on the contest form. But the contest closes on December 1, so don't miss out.
How quickly Christmas is approaching and it's such a busy time of year! I have a new release coming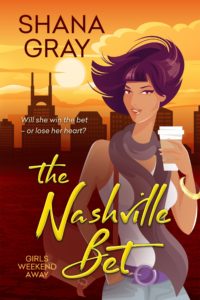 December 18. THE NASHVILLE BET, 3rd book in the Girls Weekend Away series will be out. Have you read the first two yet? WHAT HAPPENS IN VEGAS & MEET ME IN SAN FRANCISCO. The books are getting some great reviews and I was so thrilled that Jill Shalvis read it and had this to say about the book.
"Full of fun, friendship and romance – a real escapist treat." – NYT bestselling author Jill Shalvis
The Nashville Bet
The romantic…
When her boss offers her free tickets to the CMA Fest, Ava Trent jumps at the chance for a weekend in Nashville with her best girlfriends. Great music and new opportunities to look for Mr Right? What more could a former country girl ask for? Well, maybe not to literally fall at the feet of the hottest guy she's ever seen.
And the superstar singer…

After becoming an overnight success, fame doesn't rest easy on Chase Hudson's shoulders. It's hard to tell who's interested in him and who's interested in the star. So when he and Ava collide, and she has no idea who he is, he's immediately intrigued. Something about Ava calls to him – even though he's convinced she's a city-type who couldn't handle his Nashville life.
Are about to get their country on.

What starts as a light-hearted bet to test one another, becomes something much deeper as Ava and Chase can't stay away from one another. But with so many differences between their lives, will they win the relationship they've been dreaming of? Or lose each other?
Look for the other Girls' Weekend Away novels, including What Happens In Vegas and Meet Me In San Francisco!