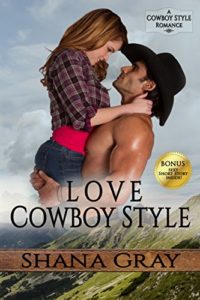 When the mountains and the man that rocked your world lives across the country, what does a girl do about it? Go back to him, of course!
Book 2 in Cowboy Style Romance Series ***
Bonus read included – Layover Lover
Unable to stay away fromher sexy cowboy, Jenna flies back to him and the Colorado Rockies. A part ofher stayed in the wild and rugged west after she left and she wants to rekindletheir passion. And uncover the potential riches hidden in this majesticlandscape.
Chet sets out to mine a special place in Jenna's heart with love and theirundeniable chemistry. Their steamy affair has Jenna searching for more thangold in the mountains–she wants Chet's rock-hard love, anywhere she can getit.
Their passion is undeniable and they come together with a summer heat thatburns hotter than their winter tryst.
*While a stand-alone quickie story, great for a lunchtime read, for maximum enjoyment, I recommend reading Passion Cowboy Style first. Be sure to enjoy the bonus read Layover Lover that follows Love Cowboy Style