How has your summer been going? I've been watching all the crazy weather with concern. We had a heatwave here a couple of weeks ago and then the rain set it. The past two weeks have been family time for me and my boys. We went to a cottage for a week, had three wonderful sunny days, then … rain. But, it was great to have us all in one place at the same time. My granddaughter loved it and was introduced to swimming which she took to like a mermaid. Last week my house was full and I watched my sweet grandbaby for a few days while her parents got some quiet time.
Needless to say, writing, editing, social media and sleep have been pretty much non-existent. Today, I thought I'd treat you with an oldie but a goodie.
Cowboys! I know I love them. How about you?
Wild horses in Wyoming chased off so as not to disturbed ours on a cattle drive.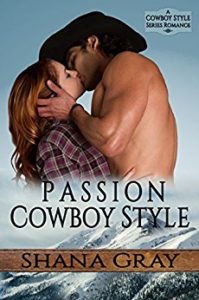 A smoking hot cowboy. A city girl. A booty call that turns into something more.
Jenna takes a big risk and decides to live in the moment. After months of communication by social media, she accepts the invitation to Colorado where she finally meets her cowboy. Burned by past romances, Jenna is determined to go with one goal in mind – a booty call with a tall, dark, sexy cowboy.
Chet is a romantic at heart and when Jenna arrives, he knows there's more to her than just a fling. He's smitten and decides to woo her the old-fashioned way with time and patience.
Their chemistry is elemental and they come together with heat that sears the snowy peaks.
When mother nature steps in, Jenna is forced to face the feelings she's tried so hard to keep buried and Chet has to draw on his mountain skills to save the woman he has come to love.
Excerpt
"Sounds to me like you don't have a whole lot of patience. Remember, all good things come to those who wait." He winked at her and stood.
Jenna watched him walk to the barbeque. He was all fluid grace. For such a big man he wasn't awkward at all and she couldn't wait to see him in the saddle. He'd promised they'd go riding tomorrow. But there was a lot of time between now and then. She watched him flip the steaks and take a sip of wine from his glass, then hold the spatula aloft. The image was ingrained in her mind and she swore she would never forget this moment.
Before she knew what she was doing or could change her mind, Jenna swung her legs off the lounge and stood. Chet turned and watched her approach, the dark dreaminess of his eyes drew her. She needed to taste him, to feel his lips under hers and if he wasn't going to make the first move then she would.
The blanket slipped down her back and she clutched the edges below her breasts.
He put the spatula down without looking where he placed it and it clattered to the patio stones. She stood before him and wound her arms around his neck, holding the corners of the blanket, wrapping them in the warmth of the wool. Her fingers pressed against his neck and the strength in his muscles made her feel truly feminine.
Almost at eye level, she had to look up only slightly to meet his gaze. All her senses tuned in to him, his essence permeated her and she let it. The long-distance teasing they had done the past few months came to a head and Jenna trembled with desire. She tipped her head back and pulled him to her. The hesitation when their lips were a hairsbreadth apart was exquisite. Energy crackled between them in the moment of anticipation before fulfillment.
Chet's vigor and arousal radiated from him in pulsing waves. The whisper of air between their bodies vanished when he snaked his arms around her waist and brought her hard against him. Jenna sucked in a breath and a little "oh" popped from between her lips.
"This is where I've wanted you all day, woman."
Passion Cowboy Style – Amazon | KOBO 
Newsletter sign up – get a free ebook download!