So how's everyone doing? Rather rough few weeks, eh? I feel utterly exhausted and don't really want to talk about the virus here so all I'm going to say is – be safe – be healthy – wash your hands.
Four nights ago I welcomed a new man into my house. I will never have to worry about him lying or cheating, and will always know his unconditional love, affection, loyalty and dedication. I've quickly fallen in love with him too.
Please meet Hiro – Japanese spelling for hero. He is a Golden Retriever and I rescued him through Golden Rescue. I renamed him from Milo and he is learning his name well. He is a little over 4 years old, and a dreamboat. In the last 6 months he's had 3 homes, mine being the last and his fur-ever home. He's a good boy and MY hero,  it was poor timing for him with the first 3.5 years of his life with elderly owners. Then came a 1 week stay with a guy that got him off Kijiji (which makes me totally sad). That guy didn't want him so he contacted Golden Rescue. Hiro was in foster care until he came to me.
He's already settled in well and my four cats have accepted him. Although today we had a bit of a set to. Hiro slipped off the couch and I was helping him back on when my cat Django came in out of nowhere on attack. I think he was protecting me and it totally got out of hand. Anyway, the only damage was to me, trying to get Django off Hiro who was cowering. I hope that's the last of the drama!
Did you know I have a free book? WHAT HAPPENS IN VEGAS is #free right now in Canada and the US. What better time to take advantage of free book when we're all housebound?
US/Canada Amz https://buff.ly/378v4Wa
4 BFF's embark on ultimate girls' getaway weekend filled with hijinks &
a sprinkling of romance.
"Full of fun, friendship & romance, a real escapist treat." NYT bestselling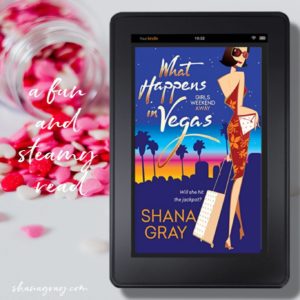 Take care and I hope that everything settles down quickly. Be safe. Stay healthy. xoxoxo