Merry Christmas and Happy New Year!!
It's RELEASE DAY for THE NASHVILLE BET. I'm dying for you to meet the hero, Chase Hudson, he is all sorts of delicious!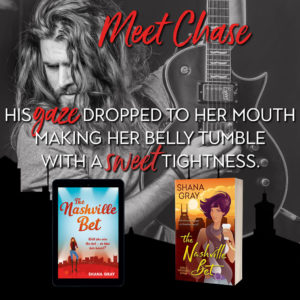 The Nashville Bet is already getting five-star reviews on Goodreads and I can't tell you how thrilled I am. Even though it's the third book in a four book series, each book was written so that it could be read as a standalone. So, if you haven't read What Happens in Vegas or Meet Me in San Franciscobefore picking up a copy of The Nashville Bet,don't fret. The fourth book, A Match Made in Monaco, which will be a novella, is coming out on April 7.
AND, I'm going to be doing a series contest, announcing the details in the New Year. So tune in to my newsletter for the details!
Now a little bit about The Nashville Bet.
In the third warm, funny and romantic novel in the Girls Weekend Away series, four best friends embark on the ultimate girls' getaway filled with hijinks and a sprinkling of romance. For any fan of Bridesmaids and Sex and the City and readers of Jo Watson, Lauren Layne, Joanna Bolouri and Cate Woods.
The romantic…
When her boss offers her free tickets to the CMA Fest, Ava Trent jumps at the chance for a weekend in Nashville with her best girlfriends. Great music and new opportunities to look for Mr Right? What more could a former country girl ask for? Well, maybe not to literally fall at the feet of the hottest guy she's ever seen.
And the superstar singer…
After becoming an overnight success, fame doesn't rest easy on Chase Hudson's shoulders. It's hard to tell who's interested in him and who's interested in the star. So when he and Ava collide, and she has no idea who he is, he's immediately intrigued. Something about Ava calls to him – even though he's convinced she's a city-type who couldn't handle his Nashville life.
Are about to get their country on.
What starts as a light-hearted bet to test one another, becomes something much deeper as Ava and Chase can't stay away from one another. But with so many differences between their lives, will they win the relationship they've been dreaming of? Or lose each other?
Look for the other Girls' Weekend Away novels, including What Happens In Vegas and Meet Me In San Francisco! And A Match Made in Monaco coming April 7.
EXCERPT
I hope you enjoy it. (hint, Daisy is just a friend)
It was a sea of cowboy hats, western shirts, jean covered asses, and, right in front of him, was a woman with the most sparkly boots he'd ever seen. She was stumbling all over herself, trying to keep up with the music, and he smiled. This must be her first time line dancing.
Chase put his hands on his hips and swung into the steps like he'd been born to do. Which he supposed he had. But he couldn't drag his gaze away from the woman in front of him.
He watched her ass swing in the saucy dress she had on. The skirt, ending mid-thigh, swished as she moved. Her long legs disappeared into the boots. For the first time in a long time, he felt himself grow aroused. 
The next steps had them turning around and he hesitated, hoping to catch a glimpse of Sparkle Boots as she twirled around, but Daisy yanked hard.
"Hey, what the—" He grumbled at her.
"Concentrate, Chase. Come on." Daisy gave him a fierce glare.
But it was like he could feel the woman behind him and once facing back in the other direction, he couldn't pull his gaze away from her. He was amused at how badly she danced. She was with a bunch of friends and they were all laughing. Even her. It was obvious her friends knew what they were doing and were helping her learn the steps. He couldn't help giving a low chuckle as she nearly tripped over herself again.
He gave her credit, though, she was trying. This song ended and he was about to make an escape back to the bar. 
"Oh, no you don't, mister." Daisy grabbed his hand and held him in place. "We got a few more sets to do."
Chase gave her an exaggerated groan. "Seriously? You said one dance."
"I lied." She batted her eyelashes as she squeezed his hand. "Oh, 'Friends in Low Places.' Don't you just love Garth. And, if I didn't know better, I'd say this was your song." Daisy poked him playfully in the chest with her pointy nail. 
"Oww, watch those claws." Chase took her fingertips, lifted her hand high, and twirled her. "Plus, I could easily take offense to you comparing me to the song. I've had my share of knowing high society girls, and they're not my cup of tea. Give me a girl who can strip down a tractor, or go fishing and not squirm taking her catch off the hook."
"Music to my ears, my man," Daisy told him. 
The next dance step called for a reverse and shuffle backwards. He was moving without having to think about it. His mind sorta wandered and the next thing he knew, he smacked into somebody. It was like a freight train had hit him. Chase heard a clatter and feminine squeals from behind, then some raised voices. He spun around, but hadn't let go of Daisy's hand quickly enough so he basically flung her onto the pile of women on the floor in front of him.
Had he mowed them all down? Good lord. Chase leapt forward to try and help.
"What the hell, Chase!" Daisy reached up and grabbed his hand. He hauled her off the pile. "What was that? You know how to dance." She stared up at him, hands on her hips.
"I was doing the steps. They must have lost their feet." He turned and looked at the ladies on the floor, they were killing themselves laughing. Clearly they were drunk and having the time of their lives.
He leaned over and picked them all up, one by one, setting them on their feet until he saw the last woman at the bottom. Sparkle Boots. She laid on the scuffed hardwood floor, with thick auburn hair covering her face, her skirt hiked up to her hips, allowing him a delicious peek of a pair of hot pink panties, and he couldn't drag his gaze from her legs. He was poleaxed.
xoxoxo
Shana