In the first warm, funny and romantic novel in the Girls Weekend Away series, four best friends embark on the ultimate girls' getaway filled with hijinks and a sprinkling of romance.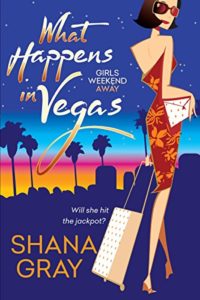 Have you been to Vegas? I've been a few times, and I was there once in September when it was so hot on the golf course I thought I was going to melt. I do love Vegas, and one day will go back. Hey! Maybe with a bunch of girlfriends!
Here's a little fun challenge I was asked to do on the title of the book, the first in book in my Girls Weekend Away series. That's right, there are four books in this series each one set in a different location and following the shenanigans of one of the friends. The next book coming in September is title MEET ME IN SAN FRANCISCO.
W – weekend
H – happy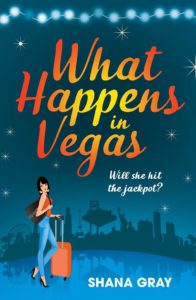 A – adventures
T – temptation
H – hero
A – away
P – poker
P – passion
E – escape
N – new beginnings
S – slots
I – intense
N – nightlife
V – vacation!
E – excitement
G – girls
A – adventure
S – sex
Sound fun? I hope you think so. We all know what can happen when a bunch of girlfriends go away for a weekend. And this book take begins an exciting weekend vacation full of adventure and shenanigans of four girlfriends, Bonni, Celia, Ava and Fredi.
Can I tease you with a few opening lines?
Bonni found a perfect spot in the bar. She was early, of course, to scope things out and get the lay of the land. Situated in the center of the casino, it was up three steps and gave a good vantage point. She settled in the chair with her back to the decorative wall behind her. A lawman never put his back to the door. It had been ingrained into her; first by her dad when she was a kid and then by her training officer in the police academy. Always be aware of your surroundings, have a backup plan, and know your escape route.

Excerpt. © Reprinted by permission. All rights reserved.
Whenever I write a book, there is always an element of fact to it. Whether it be just the location, or perhaps an event, something that happened while I was away somewhere, it could be any number of things. I decided to come up with 5 Fun Facts – at least I hope they're fun! – about WHAT HAPPENS IN VEGAS.
Vegas baby! Isn't that fun in itself? Going to Vegas means all kinds of shenanigans can happen. And they do in this book as they can in real life too!
I've been to all the locations in this book, with the exception of where they go in the helicopter. Next time I go to Vegas, I'm going to go where the girls went.
In Vegas you're allowed to carry drinks along The Strip. It's not uncommon to see many drunk people stumbling all around. And I do admit, on one trip that was me and blame it on Fat Tuesday's and the time change from Toronto to Vegas. It can be a killer. There is a little scene reflective of this in the book.
The idea for the Girls Weekend Away series was inspired by a promotional video I saw a year ago for a casino in Niagara Falls, Canada.
 There is a certain alcoholic beverage that has found its way into each of the books in The Girls Weekend Away series. I challenge you readers to figure it out and let me know once the fourth book comes –which will be around Valentine's Day. I will do a giveaway, so watch for the contest over the next months on my Facebook page, Instagram and my website.
Writing the poker scenes in this book was challenging. While I am not an expert poker player by any stretch of the imagination, I have played Blackjack, Texas Hold 'em and have watched World Poker Tour — and between you and me I've always had a crush on Vince Van Patton. I even tweeted him when I was doing research, hoping for a reply, which I never got *cries* … I digress … What I find amazingly funny, though, is how suddenly I can no longer add when I'm playing poker. My fingers come in very useful for adding up 9 + 8.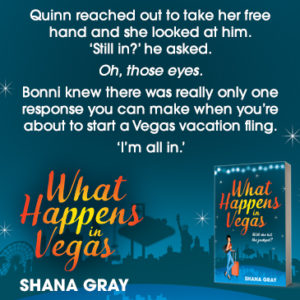 Here is a question for you guys. If you won big money on the slots in a casino, what would you do with it? How would you spend it? Just for the heck of it, let's say you won $100,000.
Im so thrilled to share my new release WHAT HAPPENS IN VEGAS with you all. Release Day is July 24. But it is available for preorder now.
I'd be thrilled if you signed up for my newsletter at my website www.shanagray.com I'll also post news of the upcoming Girls Weekend Away books on my site. And if you're on Goodreads I'm over there too!
Take care and I hope the rest of your summer is fabulous!
WHAT HAPPENS IN VEGAS is coming real soon and you can preorder now by clicking over to my BOOKS page