Hola a todos mis nuevos lectores españoles!
Estoy usando una aplicación de traducción así que perdona cualquier error.
¿Sabías que tengo un nuevo libro traducido al español? #WorkingGirl ya está disponible en Amazon y con mi editorial española Titania. ¿Ya tienes tu copia?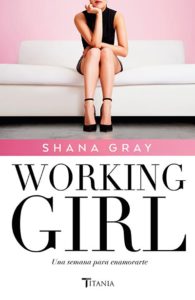 Esta historia es sexy, con una mujer segura y siete hombres sexy que deben entrevistarla para un nuevo trabajo. ¡El lunes nunca volverá a ser el mismo!
Por favor regístrese para mi boletín de noticias y estaría muy feliz de tener noticias de usted. Por favor, hágamelo saber si usted amó la historia de Tess tanto como yo.
Esta es sólo una nota rápida para decirles todo lo emocionado que estoy de tener un libro en español y conocer a nuevos lectores. xoxoxo
English
Hello to all my new Spanish readers!
I am using a translation application so  forgive any mistakes.
Did you know I have a new book translated into Spanish? #WorkingGirl is now available on Amazon and with my Spanish publisher Titania. Have you got your copy yet?
This story is sexy, with a confident woman and seven sexy men that must interview her for a new job. Monday's will never be the same again!
Please sign up for my newsletter and I would be very happy to hear from you. Please let me know if you loved Tess's story as much as I do.
This is just a quick note to tell you all how excited I am to have a book in Spanish and to meet new readers. xoxoxo