How many of you love Anne's story? Did you watch the tv shows too? I have an unusual tie to the author Lucy Maud Montgomery, one that I didn't truly appreciate until I grew older and even more so…an author. Her son, Dr, Montgomery, delivered me. My mom was very proud of that, as I am now!
Two weeks ago, Meat Man, and I headed down east. We went to Prince Edward Island (PEI) and to Nova Scotia. While in PEI we did as much sightseeing that we could and during one of our many strolls through Charlottetown, we came across this store. It was everything Anne!
I did a lot of research and took loads of pics. A lot of lighthouses and empty beaches. We even went to a beach on PEI called The Singing Sands. I had planned that before we began our holiday so it was a priority. Sadly, the sands didn't sing for me 🙁 There had been a crazy storm the day before so the sands were wet which hampers the song. Although I did dream about the sands singing later that night.
We ate a lot of seafood. I mean really, why wouldn't we! We even had oyster shots, where they called them Shuck and Shine. Meaning the oysters were freshly shucked and in a shot of local moonshine. I do think it looks like aliens in a glass. But I liked them…the shine made my mouth numb.
$1 oysters! Who could resist?
We drove over the Confederation Bridge into New Brunswick and then drove and crazy windy highway to Halifax. The next week was exploring the South Shore of Nova Scotia. I think I fell a little bit in love.
Peggy's Cove
 Lunenburg
Halls Harbour where the tides are so large, 42.4 feet the day we were there, the boats sit on the sea bottom when the tide is out.

My own Dragon Egg from Scotts Bay.
It was a great holiday and my notes, pictures and experiences are helping me plot a cozy mystery. If you'd like to see more pics and a few videos, visit my Instagram or Facebook.
But, while I was away it was release day for Working Girl, the Spanish translation. It's doing great in Spain and I'm thrilled to meet so many new readers. I've created a Facebook page that will be dedicated to Spanish readers, so if you know anyone, please pass on the link.
Shana Gray Spain – Facebook page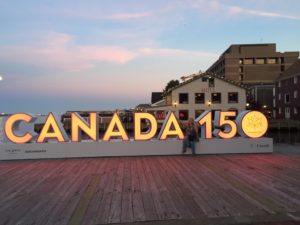 Also, if you sign up for my newsletter through this LINK you'll get a free book!